Sensei's professionals hold a wide variety of certifications so our clients know that we are well qualified to perform a broad range of information technology, information security and digital forensics services. To help our clients understand the certifications we hold, they are listed below with a brief explanation of their meaning.
---

Certified Ethical Hacking Certification
A Certified Ethical Hacker is a skilled professional who understands and knows how to look for weaknesses and vulnerabilities in target systems and uses the same knowledge and tools as a malicious hacker, but in a lawful and legitimate manner to assess the security posture of a target system(s). The CEH credential certifies individuals in the specific network security discipline of Ethical Hacking from a vendor-neutral perspective.
---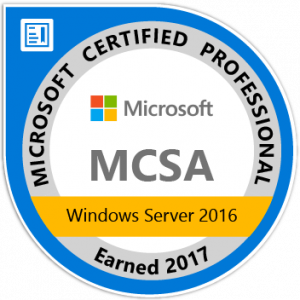 MCSA: Windows Server 2016 certification qualifies you for a position as a network or computer systems administrator or as a computer network specialist, and it is the first step on your path to becoming a Microsoft Certified Solutions Expert (MCSE).

---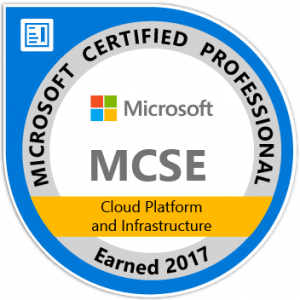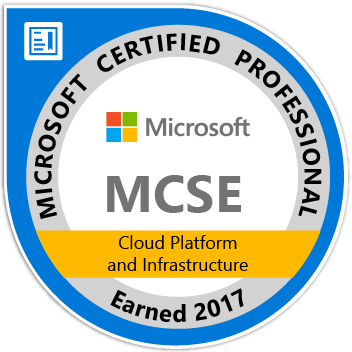 MCSE: Cloud Platform and Infrastructure certification validates that you have the skills needed to run a highly efficient and modern data center, with expertise in cloud technologies, identity management, systems management, virtualization, storage, and networking

---
Microsoft Certified Solutions Expert (MCSE) The MCSE certification validates that you have the skills needed to run a highly efficient and modern data center, with expertise in identity management, systems management, virtualization, storage, cloud solutions and networking.
---
Microsoft Certified IT Professional (MCITP)
An MCITP has the comprehensive set of skills necessary to perform a particular job role, such as database administrator or enterprise messaging administrator.
---
Microsoft Certified Technology Specialist (MCTS)
A Microsoft Certified Technology Specialist certification proves your skills on a particular Microsoft technology, such as the Windows operating system, Microsoft Exchange Server, Microsoft SQL Server, or Microsoft Visual Studio.
---
The VMware Certified Professional (VCP)
As VMware Certified Professionals, Sensei can assist your organization with all of your virtualization needs.
---
Cisco Certified Network Professional (CCNP®)
A CCNP® can plan, implement, verify and troubleshoot local and wide-area enterprise networks and work collaboratively with specialists on advanced security, voice, wireless and video solutions.
---
Cisco Certified Network Associate (CCNA®)
CCNA® certification validates the ability to install, configure, operate, and troubleshoot medium-size route and switched networks, including implementation and verification of connections to remote sites in a WAN. CCNA curriculum includes basic mitigation of security threats, introduction to wireless networking concepts and terminology, and performance-based skills.
---
Citrix Certified Administrator (CCA®)
CCA® designed for IT associates and focuses on validating core implementation skills — the ability to implement a specific Citrix product.
---
Microsoft Certified Systems Engineer (MCSE)
MCSE designs and implements a solution that is based on Windows operating system and Windows Server System software. Specializations – MCSE: Messaging and MCSE: Security.
---
Microsoft Certified Systems Administrator (MCSA)
MCSA administers network and systems environments based on the Windows operating systems. Specializations include the MCSA: Messaging and the MCSA: Security.
---
Certified Novell Engineer (CNE)
A CNE has acquired a wide variety of network support skills that will keep your company's network running efficiently – with less downtime. CNEs solve advanced company-wide support problems and high-level network problems, as well as planning, installation, configuring, troubleshooting and upgrading services for networks.
---
CompTIA Network+ (NET+)
A certification that is used to measure skill as a network technician: understanding of network hardware, installation, and troubleshooting.
---
CompTIA A+ (A+)
The A+ certification demonstrates competency as a computer technician. Officially, CompTIA A+ certification is a vendor neutral certification that covers numerous technologies and operating systems from such vendors as Microsoft, Apple Inc., Novell and some of the Linux distributions.
Sensei's forensic technologists hold a number of industry certifications that ensure they are current with the latest practices and technology in the field. Some of these certifications include the following:
---
Certified Information Systems Security Professional (CISSP) is an independent information security certification governed by the International Information Systems Security Certification Consortium (ISC)². The CISSP common bodies of knowledge include access control, business continuity and disaster recovery, cryptography, operations and physical security, telecommunications and network security, as well as legal, regulations and compliance domains.
---
Offered by the International Society of Forensic Computer Examiners (ISFCE), the Certified Computer Examiner (CCE®) certification is a fair, vendor neutral, uncompromised process for certifying the competency of forensic computer examiners. It certifies examiners solely based on their knowledge and practical examination skills and abilities as they relate to the practice of digital forensics, and sets high forensic and ethical standards for forensic computer examiners.
---
EnCase® Certified Examiner (EnCE®) program certifies public and private sector professionals in the use of Guidance Software's EnCase computer forensic software. EnCE® acknowledges that professionals have mastered computer investigation methodology and use of EnCase during complex computer examinations. Recognized by law enforcement and corporate communities as a symbol of in-depth computer forensics knowledge, EnCE® illustrates that an investigator is a skilled computer examiner.
---
The AccessData Certified Examiner™ program certifies individuals in both public and private sectors in the use of AccessData forensic investigative technology. The ACE credential is obtained by completing a multiple choice exam which consists of Knowledge Based and Practical Based elements. The combination of the two elements has become a recognized standard for legal defensibility when candidates have completed certifications and been required to substantiate them.