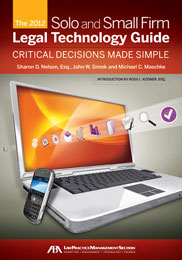 Authors:
Sharon D. Nelson, John W. Simek, and Michael Maschke
ISBN:  978-1-61438-187-7
Trim Size: 7×10 Paperback
Price: $89.95
Overview
Published by the American Bar Association, this annual guide is the only one of its kind written to help solo and small firm lawyers find the best legal technology for their dollar. You'll find information and recommendations on computers, servers, networking equipment, legal software, printers, security products, smartphones, and anything a law office might need. Written in plain language, this is the definitive resource to making technology work for you – without hiring your own consultant.
Content Includes:
A complete, unbiased overview of current legal technology products
Concrete steps to making sound technology decisions
How to choose the right operating system and software for your office, including case management applications, billing systems, and document management solutions
What you need to go wireless
How to protect your firm from security threats, including viruses, spyware, and spam