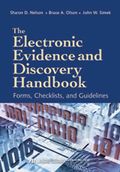 Authors:
Sharon D. Nelson, Bruce A. Olson, and John W. Simek
ISBN: 1-59031-670-3
Trim Size: 7×10 with CD-ROM
Price: $139.99
Book Overview
Discovery and the use of electronic evidence has increased dramatically over the past few years, but many lawyers still struggle with the complexities of dealing with electronic information. This comprehensive book provides lawyers with the templates they need to develop an effective E-Discovery strategy, and to frame appropriate E-Discovery requests. In addition to the ready-made forms, the authors also supply helpful information and commentary to bring you rapidly up to speed in the electronic discovery field. The accompanying CD-ROM features over 70 forms in Word format including the following:
Content Includes:
Interrogatories – Basic to Advanced
Requests for Production – Basic to Advanced
Deposition Checklists
Sample Rule 30(b)6 Subpoena with E-Discovery Duces Tecum
Sample Motions to Compel
Sample Motions for Protective Orders
Sample Motions for Spoliation Sanctions
Electronic Evidence Protocol Agreements
Preservation and Spoliation Letters
Over 200 Cases Summarized!
Also included is an extensive electronic evidence case digest with over 200 cases summarized! Written with a view toward simplifying the complexities of computer forensics, this is an essential resource for anyone who deals with electronic evidence and discovery.