Webinar:
Working Remotely and Securely: What Lawyers Need to Know
This free webinar talks about the tech and security issues raised by working remotely. Topics include the equipment you need, collaboration and video conferencing software, how to access the law firm network securely, making sure you have sufficient bandwidth, checking the security of your home router, virtual private networks (VPNs), remote access through LogMeIn and other software, the dangers of home machines vs. firm-issued devices, handling mail and telephones, video conferencing security and tips, using the cloud to help out and how cybercriminals are attacking home networks to get into law firm networks.
---
Articles:

Double Whammy on Law Firms: COVID-19 and The Troubled Economy
COVID-19 and a Troubled Economy: How to Maintain Lawyer Wellness
Zoom Training for Lawyers – and Using it Securely 
Coronavirus: Tech Issues for Lawyers Working at Home
How to Sew A Coronavirus Face Mask 
---
Webinars with Sharon and John:
COVID-19 and a Troubled Economy: How to Maintain Lawyer Wellness
Zoom Training for Lawyers – and Using it Securely
Working Remotely and Securely: What Lawyers Need to Know
Never Stop Marketing! Effective Lawyer Marketing in a Down Economy
See a complete listing of all of our seminars here.
Interested in scheduling a webinar session for your company?
Please contact Sharon Nelson by email at snelson@senseient.com
---
Podcasts:
eDiscovery Before and After COVID-19: What to Expect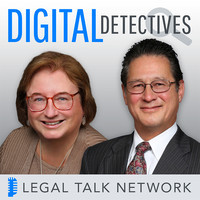 Doug Austin surveys the current state of the eDiscovery industry and discusses emerging trends.
In this edition of Digital Detectives, hosts Sharon Nelson and John Simek welcome Doug Austin to discuss current trends in eDiscovery and how the industry has been impacted by the pandemic. Doug also talks about his new blog, eDiscovery Today, which provides up-to-date insights on the most current developments in eDiscovery, data privacy, and cybersecurity.
Doug Austin is an eDiscovery thought leader and blogger.
Special thanks to the sponsors, Logikcull and PInow.
---
Professor Richard Susskind Discusses Online Courts
Professor Richard Susskind shares insights on how the pandemic will impact the future of online legal and court services.
Until now, the legal profession has largely viewed technology as a thing that should be grafted onto the very traditional practice of law, but the onset of the pandemic has forced this opinion to change rapidly. Lawyers and judges who once eschewed the idea of online legal practice–and particularly online courts–are now working to find ways to innovate legal and court services to continue providing access to justice.
In this edition of the Digital Edge, hosts Sharon Nelson and Jim Calloway welcome Professor Richard Susskind to survey the new landscape of online courts and discuss changing views toward technology across the profession.
Professor Richard Susskind OBE is an author, speaker, and independent adviser to major professional firms and to national governments.
Special thanks to the podcast sponsors, Clio, Nexa, Scorpion, and Blackletter Podcast.
---

Ben Schorr shares tips for improving security in Microsoft products.
Are you taking advantage of the security options available within your Microsoft products? Digital Detectives Sharon Nelson and John Simek welcome Ben Schorr to talk about security basics in both Microsoft Windows and Microsoft 365 and his tips for adding additional layers of protection. They also discuss common security risks and user mistakes, address security vulnerabilities associated with remote work, and offer insights into how to best protect your law firm while working at home.
Ben M. Schorr is a senior technical writer at Microsoft.
Special thanks to the sponsor, Logikcull.
---
Coronavirus and Working Remotely: What You Need to Know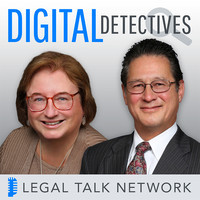 John Simek and Sharon Nelson answer lawyers' frequently asked questions about how to work remotely and securely.
With the coronavirus outbreak driving people to work remotely, John and Sharon have been inundated with questions from lawyers and law firms on how to work from home securely. This edition of Digital Detectives is dedicated to answering the most common questions they've received and helping listeners continue to serve their clients in these uncertain times. They discuss methods lawyers should be employing during this crisis and offer recommendations for remote work tools and services.
Special thanks to the sponsor, Logikcull.
---
Risky Business: How Lawyers are Navigating Through COVID-19 and the Rocky Economy
Sharon Nelson and Jim Calloway offer guidance for weathering COVID-19 and its economic impacts on the legal profession.
The pandemic has caused rapid changes in the legal profession, and many lawyers are struggling to weather the storm. What can you do to bring your firm through this crisis? In this Digital Edge, Sharon Nelson and Jim Calloway survey the new landscape of legal and discuss what you can do to keep up with important transitions in the practice of law. They share tips for cybersecurity, video conferencing, obtaining financial assistance, and future pandemic planning.
Also, check out Jim's recommendation: Brett Burney's video on working remotely with kids at home.
Special thanks to the sponsors, Clio, Nexa, Scorpion, and Blackletter Podcast.
---
Tech Toolbox: What's Right for Your Practice?
Richard Ferguson offers tips for selecting the right technology tools for your law firm.
Is your current technology setup really working for your law firm? And with new challenges to the practice of law during the coronavirus crisis, are you able to do remote work effectively? Jim Calloway and Sharon Nelson talk with Richard Ferguson about the types of tools all lawyers should have at the ready in their tech tool boxes. They tap into Richard's wealth of knowledge on practical tech solutions for law firms of all sizes.
Richard Ferguson practices law in Edmonton, Alberta, Canada with the business law firm Lynass, Ferguson & Shoctor and is a current member of the ABA Techshow 2021 Planning Board.
Special thanks to the sponsors, Clio, Nexa, Scorpion, and Blackletter Podcast.
---
Training
Zoom Training for Lawyers and Using Zoom Securely
As lawyers moved to working remotely, they flocked in droves to Zoom for video conferencing. As they quickly learned, it was easy to use – and their clients loved it too. Zoom is rich in features, but beware – in order to use Zoom ethically and competently – you need to become educated about using Zoom securely. That requires training. Many of the stories you've heard bemoaning Zoom's supposed insecurity were a result of user error. Moreover, Zoom has already made great strides in enhancing its security.
Details on Zoom training here.
DocuSign, Cybersecurity Awareness and Phishing Training
Our DocuSign training will show you how to send documents out to your clients and vendors for execution utilizing electronic signatures. The need for remote contract signing is important to keeping your business relationships and clients moving forward during these times.
Our Cybersecurity awareness training will teach you employees valuable security awareness tips and how to stay safe while working from home. Protecting your company's assets and confidential information is more important now than ever, given the attacks that are trying to take advantage of the current world and uncertainties that we face. Having educated and informed employees is one of the best things you can do right now to help keep your systems secure.
Our Phishing Training services will assess and teach your employees the basics of recognizing email phishing attempts. The training sends crafted email phishing attempts to all users over a set period of time. Clients will be able to see the results of the phishing exercises in real-time, including what users clicks on bad links within the email messages, allowing you to provide additional educational content to those users that need it the most.
Interested in scheduling a training session for your company?
Please contact Director of Cybersecurity Mike Maschke by email at mmaschke@senseient.com or by phone at 703.359.0700.
---
Other helpful links
SANS Security Awareness Deployment Guide – Securely Working at Home
NIST Information Technology Bulletin Security for Enterprise Telework, Remote Access, and Bring Your Own Device (BYOD) Solutions
NIST blog post – "Preventing Eavesdropping and Protecting Privacy on Virtual Meetings"