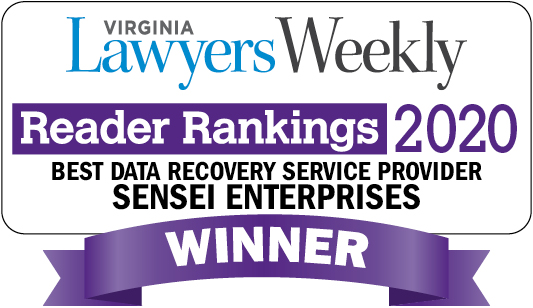 Here at Sensei Enterprises, we understand that your mobile device is not just any device, it is your lifeline. These days, we analyze more mobile devices than computers. Mobile devices, including smartphones, are portable computers and have very similar capabilities. Our examiners here at Sensei Enterprises are familiar with many makes and models of mobile devices and have the experience to help you with the analysis of a mobile device pertinent to your matter or to assist in recovering your lost data.
Recoverable Mobile Device Data
The following are some examples of retrievable data depending on the make and model of your mobile device:
Messages (SMS/MMS, iMessages) and communications
Pictures and downloads
Call Logs
Contact Lists
Calendar Data
Web Browser
App Specific Data
Third Party Messaging Apps (Kik, Kakao, WhatsApp, etc.)
Emails stored on the device
GPS coordinates
Deleted Mobile Device Data
It may even be possible to recover deleted information, even if the device has been deactivated from service. However, there is no guarantee that the items you would like recovered are still available on the device. 
Factors that can affect recovery include: the device's make/model, the length of time that has passed since the relevant items were deleted, the number of new items that have been stored on the phone since the relevant items were deleted, or whether the phone has been reset or restored.
Our recovery and analysis process involves several steps. In order to attempt recovery, we will need the device for approximately one to two business days. First, we preserve the contents of the mobile device. Second, we conduct our analysis and examination, or recovery of information. Lastly, we provide you with the results of our analysis in the format of an extraction report.
Mobile Forensics Services Offered:
Preservation of the Device  – $600.00
The preservation of the device involves creating a forensic image of the provided device. This ensures that a copy of the original data is preserved. In order to create a forensic image of a device please contact us to determine if your device is supported.
Preservation, Analysis, and Generation of a Report  -$1,000.00
Depending on device support, a forensic image of the device will be generated. The forensic image will then be searched based on the client's criteria, for example, all communications between the device and specific parties of interest or all data from a certain time frame. A report of the responsive search hits is then generated and provided to the client for review.
Mobile Spyware Review -$1,500.00
Mobile devices are susceptible to spyware and malware. Most spyware and malware operate in the background of the device,  to limit the user's ability to detect them. Sensei Enterprises has the ability to conduct a review of a device for spyware and malware, as long as we have support for the specific device.
Need Assistance with Mobile Device Forensics?
Please feel free to call or use our web contact form to contact us with your device information so that we can determine what our recovery capabilities are for your specific make and model of phone, laptop or tablet.
Questions? Need Help?
Please contact CEO/Director of Cybersecurity and Digital Forensics Michael Maschke at or at 703.359.0700.