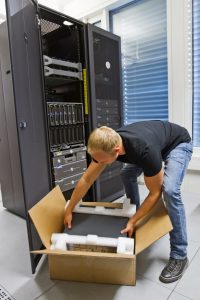 Sensei Enterprises provides technology relocation services for our customers. Our company and consultants have been supporting corporation relocations for over 20 years, and have an expert, in-depth understanding of everything involved in relocating your technology. By taking care of the planning and details, Sensei Enterprises can ensure that your business is uninterrupted during your move. The key to any successful relocation is flexibility – we will fit our expertise around your specific business needs and requirements.
Sensei Enterprises knows that sometimes it's difficult for businesses to put together all of the right people to make a move happen without a lot of complications. Whether it be phone systems, cabling, copiers, computers, servers, HVAC, power requirements, etc. – Sensei has you covered.
Lastly, Sensei Enterprises has partnered with Interstate Moving and Logistics – one of the largest moving companies in the United States. With this new partnership Sensei and Interstate work together to further the goal of making this move a seamless transition. If you've already selected a moving company, that's fine too. We can work with any moving company you choose.
For more information or if you are planning a move soon, please call Jeff Fox, Sensei's Director of IT, at 703-359-0700 or write him at