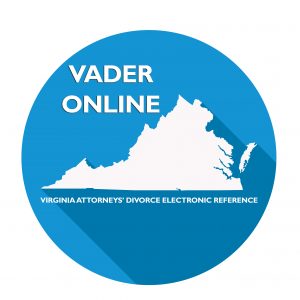 VADER software is now browser-based (https://vaderonline.com) and is called VADER ONLINE. Users may register for the software by going to the VADER ONLINE website and selecting the "Click Here to Register" link. VADER ONLINE is subscription-based, and costs $250 per year per license for each of the first five users, and for six users or more the subscription cost is discounted.
---
VADER ONLINE is an extensive compendium of automatically calculating worksheets, including Support and Support-related, Equitable Distribution workbooks and Case Tracking worksheets. VADER ONLINE also includes contributed model text documents from local jurisdictions and others.
VADER ONLINE is the successor to the Microsoft Excel-based version, providing a platform that offers more flexibility for our product, including:
The ability to access VADER from mobile devices and tablets
New back of the envelope feature, allowing users to quickly perform basic support calculations
Updated to include mixed custody and new Pendente Lite guidelines
Support for same sex marriages and custodial arrangements, allowing users to apply the appropriate labels to the parties
Ability to download and save (password protection optional) case files for future edits
Two-factor authentication requirement for all user accounts
New firm administrator (must be a VADER subscriber) account to manage firm users
Updated Model Text documents
Updated Case Tracking worksheets with future holidays integrated
Supported on all major browsers and operating systems, no installation required
Updates will be applied automatically and notifications posted in the News section of VADER ONLINE
Questions? Need Help?