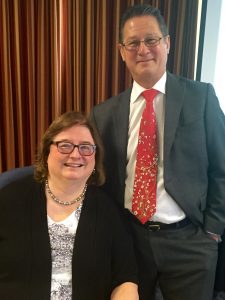 Are you looking for speakers to educate and entertain your employees?
---
The Deep Dark Web
Think of it as the iceberg of the Internet. Some estimates place the content of the Deep Web at 96% of all Internet information. That means only 4% of the Internet data is indexed by traditional search engines such as Google, Bing and Yahoo. How do you access the Deep Web and can you be anonymous as you traverse areas fraught with dangers? The Deep Web may even contain information to help your case, but how do you find it? Come learn the secrets and challenges of navigating the deep, dark waters of the Internet.
---
The Ransomware Epidemic and How to Protect Your Law Firm
By now, most lawyers know that ransomware is an epidemic, encrypting their files, holding them hostage and demanding a ransom for the decryption key. Our presenters will tell you some true life stories of law firm ransomware incidents. Ransomware is scary, but there are ways to protect yourself against it using technology and policies, ways to train your employees not to be duped by phishing e-mails, and ways to implement a backup solution that will allow you to recover from a ransomware attack losing little or no data and without paying the ransom.
You'll also learn how to position yourself to pay a ransom in bitcoin (the cybercriminal's currency of choice) if you find yourself a victim.  Do you have to report a ransomware attack under data breach notification laws? Well, it depends – learn why at this CLE. Our experts welcome your questions.
---
60 Legal Tips in 60 Minutes
Don't miss this fast-paced presentation (an audience favorite) that offers you 60 legal tech tips on a variety of technology issues that you can begin incorporating into your practice immediately – from the best legal technology and practice management tools available today to an array of electronics and useful websites designed for lawyers. Make sure you come prepared to "listen fast"!
---
A Lawyer's Guide to Keeping Data Safe Abroad and on the Road
Boy oh boy, have the rules changed.  Our presenters will go through data security procedures on the road – and the inherent dangers of unsecured wireless networks and how to overcome them. Airplane networks? A security nightmare. But the big game changer has been security when you take smartphones, laptops, and tablets abroad. Keeping your data safe from the snooping of cybercriminals and foreign governments can be challenging. Seizing and imaging phones at the border, while legally murky, has become more common.  Large firms are increasingly sending their lawyers abroad with "burner" phones and "clean" laptops and tablets – and demanding that they be cleaned before coming back into the U.S.  Even lawyers vacationing abroad need to think twice about the security of confidential data on their devices. Our presenters will give you current thinking on how to best protect your data when on the road and when traveling abroad.
---
Practical, Budget-Friendly Cybersecurity Tips at Warp Speed
Lawyers have an ethical duty to be competent and to keep their client data confidential. Clients too want to keep their confidential data protected. All too often, information security is not prioritized by law firms. It costs money to protect data and businesses frequently resist budgeting for security, even though an ounce of prevention is far less expensive than a pound of cure. Investigating and remediating data breaches is hideously expensive, not to mention the necessity of complying with state data breach notification laws. But there are a host of free and budget friendly tips. Our presenters will cover:
Cybersecurity standards for small businesses
How to prevent data breaches using a combination of technology, policies and training
Secure computing when you're on the road
Two factor authentication
Intrusion detection systems
Encryption
The new rules for strong passwords and password management
What you must do after a data breach and the components of an Incident Response Plan
Defending against – and recovering from – ransomware
---
Artificial Intelligence in the Practice of Law: Running with the Machines
It is no secret that the AmLaw 200 is in the process of embracing artificial intelligence (AI) and expert systems. As Yogi Berra used to say, "The future ain't what it used to be." Across all professional services, artificial intelligence is beginning to have a dramatic impact on how the professions are evolving. In a time where a company like Accenture says that 5% of its workforce is not human (representing 20,000 full time jobs), lawyers need to think about AI and how it will reshape the practice of law.
Our presenters will tell you precisely where AI is today in the legal world (and how loosely the term 'AI' is used) and help you separate the wheat from the chaff. Where AI has entered the legal world, it is proving that legal research, e-discovery, compliance issues and contract issues are fertile ground for rapid AI success. Where is this going – and how fast? Who are the major providers to watch? Our presenters will cover the following topics:
How to separate true AI from the hype
Who in law is using AI and what is it currently capable of?
What are the realistic expectation for AI in law over the next few years?
What are the ethical implications of AI?
How can AI be leveraged to make law firms more competitive?
---
Cybersecurity Training for Employees
Phishing and phone scams have become a global epidemic. Organized crime groups around the world target you and your colleagues, attempting to gain access to financial accounts or hold your data for ransom. One click, and you too can be held hostage. Education is the first step in abiding by your ethical duties and protecting your firm from phishing threats and other common cyber attacks. Learn how attackers trick people into clicking on links and giving out information – and how you can implement an effective cybersecurity awareness program in your firm using realistic phishing tests, and more. This practical program will include tips to ensure that your employees are educated and an effective part of your "human firewall".
---
What Does Ethical Competence Mean in  the Digital Era?
Attorneys worry about what technology competence might require of them – especially since they find legal technology so complicated. Today's technology provides great benefits to attorneys, including productivity, efficient workflow, mobility, rapid – often instantaneous – communications, and unprecedented access to information. How much must you know to be competent with technology?
And, along with the benefits of technology come great risks, particularly in the area of confidentiality. What do the amendments to ABA Model Rules 1.1 and 1.6 really mean? How do attorneys become competent in technology and take reasonable measures to safeguard confidentiality?
This session will explore the benefits and risks of attorneys' use of current technologies. It will also include top practical information security tips that you can take with you and use!
---
The Future of law Practice
Lawyers have begun to realize that the golden age of lawyers is gone – forever. Why? Largely because technology has become such a disruptive force in the practice of law. So much of what lawyers do is now commoditized, something which companies like LegalZoom and Avvo have capitalized on. We also live in a new climate in which clients, particularly General Counsels, want "more for less." Our speakers will share their view of the future of law – and offer suggestions for how to survive – and thrive – in this new era.
---
Encryption Made Simple for Lawyers
Encryption is a topic that most attorneys don't want to touch with a 10-foot pole, but it is becoming a more and more important part of security. Encryption is an electronic process to protect data. It has now reached the point where all attorneys should generally understand encryption, have it available for use when appropriate, and make informed decisions about when encryption should be used and when it is acceptable to avoid it. Fortunately, easy to use options are available today for encryption. Most attorneys will need technical assistance to install and set up encryption, but it's generally easy from there.
Attorneys have ethical and legal duties to protect information relating to clients. Encryption is an important consideration in addressing these duties.
---
On the Digital Trail of the Craigslist Killer: A Case Study in Digital Forensics
The hunt for the Craigslist killer involved many kinds of digital evidence – without it, Philip Markoff might never have been caught. As a crime story, the elements of the investigation are compelling – murder, robbery, masseuses, bondage, kidnapping, gambling, suicide and a suspect who was a medical student engaged to a nice young woman – and a great deal of blood. The digital evidence included video images, disposable cell phones, text messages, e-mails, cell phone towers, IP address tracing, digitized fingerprints, possible wireless network poaching and Facebook postings. On the framework of this astonishing tale, our experts will flesh out the digital forensics aspects of the case as well as focus on the privacy implications for all of us – innocent OR guilty.
---
TESTIMONIALS
"You guys were awesome and drew lots of praise and compliments from my colleagues."
– Jim McCauley
"Hi Sharon and John,
One of the joys of being a lawyer-judge is meeting and working with you—people who are experts at what they do but who do not take themselves too seriously. You are my key link to technology, what lawyers are doing, and the forensic world I must keep abreast of as a judge." "I cannot thank you enough for speaking at our National Bar Association meeting. I have already alerted our Judicial Council Program Chair for next year that I want you to run at least two more seminars. And yes, I subscribed to your blog!"
– Federal Judge Gerald Bruce Lee
"In addition to Tuesday's program, Perry Mason Goes Digital: Electronic Evidence in Family Law, I had the chance to hear you and John speak at the First Day in Practice CLE in Richmond right after I passed the Bar –  I've been captivated on both occasions!"
– Peter Ervin
"Sharon Nelson and John Simek were fantastic at ABA Techshow. Never have I described a CLE program as riveting. I was on the edge of my seat for the entire program. I can hardly wait for the sequel."
– Tom Bolt
"Sharon & John: Wonderful presentation! I'm overwhelmed and always amazed at you two. Your presentations are so entertaining, informative and leave us wanting for more! You are a class act!"
– Nancy J. Duff, The Duff Law Firm
"Sharon and John, I wanted to let you know how much I enjoyed this morning's CLE. It was a magnificent presentation. It was so well presented that on a scale of 1 to 10, it was a 20. It is one of the best, if not THE BEST CLE I have ever seen. Great job!"
– Marc Matheny, ABA TECHSHOW Board Member