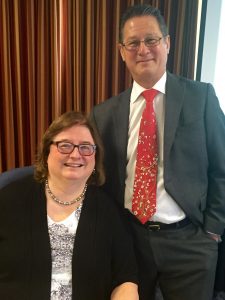 Are you looking for speakers to educate and entertain your employees?
---
Locked Down: Information Security for Lawyers
Lawyers have an ethical duty to be competent and to keep their client data confidential. Clients too want to keep their confidential data protected. All too often, information security is not prioritized by law firms or their clients. It costs money to protect data and businesses frequently resist budgeting for security, even though an ounce of prevention is far less expensive than a pound of cure. Investigating and remediating data breaches is hideously expensive, not to mention the necessity of complying with state data breach notification laws. This session will cover:
How data breaches occur

How to prevent data breaches using a combination of technology, policies and training

Secure computing when you're on the road

Encryption

The new rules for strong passwords

Common sources of breaches: User Error, Technology Snafus, Insiders, Hackers and Hacktivists

How to manage smartphones in a BYOD (bring your own device) world

What you must do after a data breach

The stories of real-life law firm breaches
---
The Ransomware Epidemic and How to Protect Your Law Firm
By now, most lawyers know that ransomware is an epidemic, encrypting their files, holding them hostage and demanding a ransom for the decryption key. Our presenters will tell you some true life stories of law firm ransomware incidents. Ransomware is scary, but there are ways to protect yourself against it using technology and policies, ways to train your employees not to be duped by phishing e-mails, and ways to implement a backup solution that will allow you to recover from a ransomware attack losing little or no data and without paying the ransom.
You'll also learn how to position yourself to pay a ransom in bitcoin (the cybercriminal's currency of choice) if you find yourself a victim.  Do you have to report a ransomware attack under data breach notification laws? Well, it depends – learn why at this CLE. Our experts welcome your questions.
---
The Ethical Misadventures of Lawyers in the Digital Era
These days, you can commit an ethical violation simply by hitting the "Send" button on your keyboard – or your smartphone. Firms miss hearings because they didn't whitelist the court's e-mail address and so didn't receive the hearing notice. They forget to scrub metadata revealing secrets to adversaries. They suffer data breaches because they don't encrypt laptops, use a PIN on their smartphone or have adequate protection from malware. And, oh, the disciplinary actions that have resulted from attorneys using social media! Our experts will tell you many tales of ethical misdeeds involving technology – and how they could have been prevented.
---
Perry Mason Goes Digital: Electronic Evidence in Family Law
Divorce lawyers are no longer looking for the "lipstick on his collar."  Today, they are hunting for his (or her) e-mails, text messages and Facebook posts where clear-cut evidence of adultery so often exists. Ditto for evidence of Internet porn addictions and concealment or dissipation of marital assets. What can a forensic technologist retrieve from cell phones and computers? What is irretrievable? What happens if your client used spyware – or was the victim of its use? Is it ok to put a GPS on the car of a spouse or lover? What federal laws apply to e-evidence in divorce cases? How are the states handling these questions? Our experts have been grilled by all the national networks – and even Oprah – on these issues. Come prepared with your own questions on how to legally procure and use electronic evidence in divorce cases!
---
Secure & Ethical Cloud Computing
What exactly does "cloud computing" mean?

What are the major pros and cons of cloud computing for lawyers?

The ethical considerations in moving to the cloud, including the 20/20 Commission changes

Ethical opinions issued by states

What should you be looking for in a cloud provider's Terms of Service?

Where should your data be located?

Real-world stories of law firms and their experiences with cloud computing
---
The Ethics of Mobile Computing
Attorneys' use of technology presents special ethics challenges, particularly in the areas of competence and confidentiality. Attorneys also have common law duties to protect client information and may have contractual and regulatory duties. These duties to safeguard information relating to clients are minimum standards with which attorneys are required to comply. Attorneys should aim for even stronger safeguards as a matter of sound professional practice and client service.
Encryption is now a generally accepted practice in information security for protection of confidential data. Attorneys should understand encryption and use it in appropriate situations. All attorneys should use encryption on laptops, smartphones, tablets and portable media that contain information relating to clients. They should also make sure that transmissions over wired and wireless networks are secure, which often requires some form of encryption. In addition, attorneys should have encryption available for e-mail or secure file transfer and use it when appropriate. Although most attorneys will need technical assistance to install and set up encryption, use of encryption after that is generally easy.
---
Computer Forensics: Sherlock Holmes Goes Digital
If Sherlock Holmes lived today, he would be a digital detective. What can a computer forensic technologist recover? What is not recoverable? How do you find a really good forensic technologist and how much will they cost? How do you use discovery to get access to computers? What format should you ask for evidence to be produced in? How will you review for privilege? How do you maintain chain of custody with electronic evidence? Our experts will give you a wide-ranging introduction to finding and using electronic evidence – legally!
---
The Ethical Implications of NSA Surveillance for Lawyers
We have been inundated by stories about NSA surveillance, which has obviously gone well beyond surveillance of foreign targets. The tentacles of the NSA stretch into all of our electronic communications, sometimes with the cooperation of American companies – including cloud providers. We already know the NSA has had access to law firm data. Reforms proffered by the President are limited. Is the confidential client data held by law firms safe from the NSA's relentless pursuit of information? Can it be made safe? Is there a chilling effect on taking cases in which the U.S. government may think it has an interest? Our panel will take you through the revelations about NSA to date and outline the steps law firms can (and ethically must) take to protect their client data from prying eyes of all kinds – abroad and at home.
---
The Future of Law
Suddenly, this topic is hot, hot, hot. Why? Because lawyers have begun to realize that the golden age of lawyers is gone – forever. When the economy tanked, law firms engaged in a lot of wishful thinking that, once we had a full recovery, things could be as they were before. Clearly, that is not the case. Why? Largely because technology has become such a disruptive force in the practice of law. So much of what lawyers do is now commoditized, something which companies like LegalZoom have capitalized on. We also live in a new climate in which clients, particularly General Counsels, want "more for less." Coming from abroad is a trend toward liberalization of the profession, with non-lawyers owning law firms. Even here, much of what was traditional legal work is being done by non-lawyers in the financial and real estate sectors. What does the future hold in a world where only 50% of our law school graduates find work as a lawyer? Our speakers will share their view of the future of law – and offer suggestions for how to survive – and thrive – in this new era.
---
Where Worlds Collide: Ethics and Technology
These days, you can commit an ethical violation simply by hitting the "Send" button on your keyboard. Firms miss hearings because they didn't whitelist the court's e-mail address and so didn't receive the hearing notice. They suffer data breaches because they don't encrypt laptops, use a PIN on their smartphone or have adequate protection from malware. And, oh, the disciplinary actions that have resulted from attorneys using social media! Our experts will tell you many tales of ethical misdeeds involving technology – and how they could have been prevented.
---
On the Digital Trail of the Craigslist Killer: A Case Study in Digital Forensics
The hunt for the Craigslist killer involved many kinds of digital evidence – without it, Philip Markoff might never have been caught. As a crime story, the elements of the investigation are compelling – murder, robbery, masseuses, bondage, kidnapping, gambling, suicide and a suspect who was a medical student engaged to a nice young woman – and a great deal of blood. The digital evidence included video images, disposable cell phones, text messages, e-mails, cell phone towers, IP address tracing, digitized fingerprints, possible wireless network poaching and Facebook postings. On the framework of this astonishing tale, our experts will flesh out the digital forensics aspects of the case as well as focus on the privacy implications for all of us – innocent OR guilty.
---
The Internet of Things and What It Means for Lawyers
What does the Internet of Everything mean for lawyers? Evidence – lots and lots of new sources of evidence. The continuing loss of privacy. A life that is so connected to the Internet that it will be hard to get through even a few minutes of our day without the Internet having an impact. But we are ahead of ourselves – so let's step back and analyze an accelerating trend.
---
When You Die, Will Your Digital Assets Go to Hell?
The acquisition of digital assets happened so suddenly that the law was wholly unprepared to deal with it. Ask most lawyers to define a digital asset and they will be clueless. While most people recognize that social media posts, e-mails and texts may constitute digital assets, they often fail to think of the real-life value of property in software such as Second Life, or that IDs and passwords, used to manage the receipt and payment of bills or the management of bank accounts or stocks, also constitute digital assets. How about our electronic collections of books, photos, movies and music? Our experts will discuss:
Defining digital assets

Current state laws addressing digital assets

Strategies for dealing with different kinds of digital assets

Sample language to include in wills and trusts

True-life stories of failures to provision for digital assets and the consequences
---
Encryption Made Simple for Lawyers
Encryption is a topic that most attorneys don't want to touch with a 10-foot pole, but it is becoming a more and more important part of security. Encryption is an electronic process to protect data. It has now reached the point where all attorneys should generally understand encryption, have it available for use when appropriate, and make informed decisions about when encryption should be used and when it is acceptable to avoid it. Fortunately, easy to use options are available today for encryption. Most attorneys will need technical assistance to install and set up encryption, but it's generally easy from there.
Attorneys have ethical and legal duties to protect information relating to clients. Encryption is an important consideration in addressing these duties.
---
Hot Issues in Digital Forensics & E-Discovery
These worlds move at a juggernaut pace. To acquaint lawyers with the hottest issues in this constantly changing landscape, our experts will cover a myriad of topics including:
The preservation and authentication of social media evidence

Recovering deleted text messages

Recovering conversations from within apps

Finding digital assets, including Bitcoins

The use of GPS locators

How to secure e-mails, texts, and phone call evidence in discovery

How to craft successful electronic discovery searches
---
Disengaging From Technology and Reengaging with People
Are you jacked-in 24/7? Can you be without your smartphone for an hour? Are you taking calls in the middle of client meetings? Has technology impaired your ability to carry on substantive discussions in person? Technology today tantalizes us with a constant stream of information but are we losing our ability to focus on real people in front of us? The goal of this session is to help you recognize the times when it's appropriate to put down the smartphone or tablet and take a no-electronic break. Our panelists will help you find an appropriate balance between the necessity of technology and the interaction with real life.
---
Ethical Use of Social Media for Lawyers
Social media can be a boon or quicksand for the unwary. Lawyers and their clients have often failed to recognize that they have a duty under compliance laws to preserve data. They fail to recognize both preservation and production duties in e-discovery – and to plan for them ahead of time. They subject themselves to liability for everything from trade disparagement to discrimination to defamation to bar disciplinary actions. The social media waters are still murky from an ethical standpoint and lawyers have found themselves fined, reprimanded and suspended for ethical lapses, with disbarments surely to follow. Our experts will help you safely navigate the uncharted legal waters of social media.
---
TESTIMONIALS
"You guys were awesome and drew lots of praise and compliments from my colleagues."
– Jim McCauley
"Hi Sharon and John,
One of the joys of being a lawyer-judge is meeting and working with you—people who are experts at what they do but who do not take themselves too seriously. You are my key link to technology, what lawyers are doing, and the forensic world I must keep abreast of as a judge." "I cannot thank you enough for speaking at our National Bar Association meeting. I have already alerted our Judicial Council Program Chair for next year that I want you to run at least two more seminars. And yes, I subscribed to your blog!"
– Federal Judge Gerald Bruce Lee
"In addition to Tuesday's program, Perry Mason Goes Digital: Electronic Evidence in Family Law, I had the chance to hear you and John speak at the First Day in Practice CLE in Richmond right after I passed the Bar –  I've been captivated on both occasions!"
– Peter Ervin
"Sharon Nelson and John Simek were fantastic at ABA Techshow. Never have I described a CLE program as riveting. I was on the edge of my seat for the entire program. I can hardly wait for the sequel."
– Tom Bolt
"Sharon & John: Wonderful presentation! I'm overwhelmed and always amazed at you two. Your presentations are so entertaining, informative and leave us wanting for more! You are a class act!"
– Nancy J. Duff, The Duff Law Firm
"Sharon and John, I wanted to let you know how much I enjoyed this morning's CLE. It was a magnificent presentation. It was so well presented that on a scale of 1 to 10, it was a 20. It is one of the best, if not THE BEST CLE I have ever seen. Great job!"
– Marc Matheny, ABA TECHSHOW Board Member