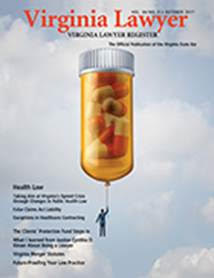 Sharon Nelson and John Simek's article, "Future-Proofing Your Law Practice" was featured recently in Virginia Lawyer Register. Virginia Lawyer and Virginia Lawyer Register is the official publication of the Virginia State Bar and is distributed to lawyers, judges, general subscribers, law libraries, other state bar associations, and the media.
Excerpt: As we travel around the commonwealth lecturing to lawyers on technology and security, we've met a lot of lawyers worrying about the future of their practices. Some are resigned. It is not uncommon to hear, "I just want to hang on for a couple more years. Then I'll retire." The young lawyers don't have the option. They are inclined to ask, "What can I do? How will I survive?"
VSB Executive Director Karen A. Gould wrote a column in the last issue of Virginia Lawyer (August 2017) in which she laid out all of the competition today's lawyer face, from LegalZoom, Avvo and a host of alternative legal service providers. We are sure some of you found it dismal reading. But take heart, there are ways to compete – and not only to survive, but thrive.