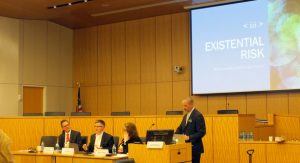 "The Perilous Ethical Waters of AI" presented by Sensei's Sharon Nelson, John Simek, and Fastcase CEO Ed Walters at the College of Law Practice Management's Futures Conference was featured in Legaltech News in an article entitled, "The Dark Side of AI in Law" by Gabrielle Orum Hernández.
Excerpt: Before artificial intelligence was the legal technology buzzword of the season, it was the stuff of science-fiction nightmares. Stories about artificial intelligence "gone rogue" proliferate in popular culture, from "Terminator" to "I, Robot" to "2001: A Space Odyssey."
Although these stories are all fictional and most have no basis in reality, significant ethical considerations around AI remain, and perhaps deserve greater space in the conversation around the use of AI in the legal industry. Panelists John Simek and Sharon Nelson, respectively the vice president and president of Sensei Enterprises Inc., and Ed Walters, CEO of legal research company Fastcase, closed out the College of Law Practice Management's Futures Conference, "Running With the Machines: Artificial Intelligence in the Practice of Law" with a discussion of some of these concerns.