What is Business Continuity?
Whether you have your own hardware or are using cloud services, Sensei has a Business Continuity solution for you. Our solution provides rapid recovery of data and information in the event there is a disaster, minimizing business downtime. Our backup solutions allow a failed server to be spun up virtually in a matter of moments, allowing work to continue while the failed server is repaired. Business continuity solutions also allow for restoration testing of certain files and folders periodically.
Need Help with Business Continuity?
Does your company have a business continuity plan? Have you evaluated your backup solution recently? Are you at risk of business disruption in the event of a ransomware attack? If you don't know the answers to these questions, Sensei can help you with your business continuity solutions.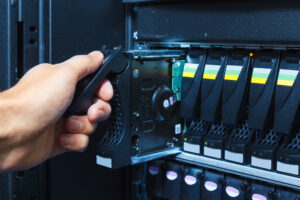 Our business continuity solutions include:
System snapshots taken at regular intervals
Server virtualization of the failed server(s)
Simultaneous backup of multiple servers
Encrypted offsite and secure storage of data
Hardware warranty and maintenance
Monitoring of backup status
Looking for Managed IT?
Sensei also offers additional managed IT services to clients. Click here to learn more about Sensei's managed IT services.