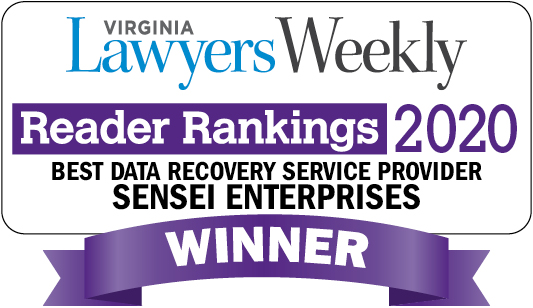 What is Data Recovery?
One of the many services that Sensei Enterprises' digital forensic examiners provide is data recovery. What is data recovery? Data recovery is  the process of recovering data that is thought to have been lost or destroyed.
Data Recovery Options
One of the most common reasons we get contacted about data recovery is because an individual has accidentally deleted a file that they still need. In most cases that extremely important file that was accidentally deleted is recoverable. Files that are often lost by accident usually include Word documents and Excel spreadsheets, pictures, videos, PDFs, emails, and much more. The digital forensic examiners at Sensei Enterprises have both the tools and the experience to find and recover most or all of the lost data.
Another reason why data recovery is performed by our forensic examiners is that sometimes file deletion is not accidental. In most cases this happens when someone is engaging in illicit behavior, this can be in their personal life or at work. Here at Sensei, we are familiar with the methods and tools used in trying to delete evidence of suspicious or illicit behavior and can usually recover the data that was intentionally deleted. Our digital forensic examiners work regularly with individuals, businesses, and law firms that are seeking to find evidence of illegal actions.
Storage media devices are susceptible to damage and failure from many actions. These devices can become damaged from overheating, power surges, water damage/spills, and can be physically damaged from being dropped, stepped on, and much more. The storage media can just fail without warning. Our digital forensic examiners have the tools and skills to recover data from some damaged or failed storage media.
Sensei also has the ability to perform data recovery on your mobile devices as well. For more information on our mobile device and phone forensics services, please click the following link.
We have had tremendous success recovering data from storage media that have become corrupted, damaged, or reformatted. Even if a file has been deleted, there is a good chance that it is still recoverable, and our digital forensic examiners will do their best to turn your disaster into a happy ending with a modest price tag.
Questions? Need Help?
Please contact CEO/Director of Cybersecurity and Digital Forensics Michael Maschke at or at 703.359.0700.