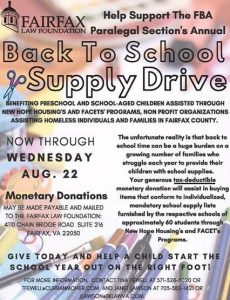 Sensei is thrilled to help the FBA paralegal section fill backpacks for school kids!
The FBA Paralegal Section, in a collaborative effort with the Fairfax Law Foundation, is once again collecting monetary donations for its Annual Back-to-School Supplies Drive. This program benefits the preschool and school-aged children assisted through New Hope Housing and FACETS, both non-profit organizations assisting homeless individuals and families in Fairfax County.
The unfortunate reality is that back-to-school time can be a huge burden on families who struggle each year to provide their children with school supplies. Your generous tax-deductible monetary donation will assist in buying items that conform to mandatory school supply lists.
Monetary donations may be made payable and mailed to the Fairfax Law Foundation: 4110 Chain Bridge Road, Suite 216, Fairfax, VA 22030. Donations will be accepted through Wednesday, August 22, 2018.
Click here to make your tax-deductible contribution online using Visa, MasterCard, or Discover.
For more information, please contact Tina Fewell or Janet Lawson.