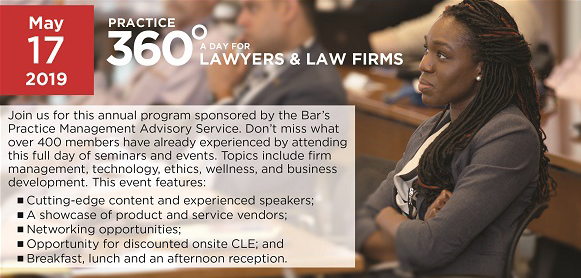 Sensei is excited to be presenting our seminar "Do You Need a Digital Detox? A One Hour Boot Camp for Lawyers" at the D.C. Bar's Practice 360 conference.

About Practice 360:
The Bar's Practice Management Advisory Service is proud to announce that we will hold the fifth annual Practice 360º: A Day for Lawyers & Law Firms on May 17, 2019.
Seminars
Fifteen to twenty seminars covering a wide range of topics that are of particular interest to law firm owners and managers but that are relevant to the entire legal community
Networking
Numerous opportunities to meet and talk to your peers, including during breakfast, lunch and an after-event reception.
Exhibit Hall
An exhibit hall featuring companies that offer services through the Bar's member benefits program, representatives from D.C. Bar departments and other technology and legal services providers.

See more information and register here.