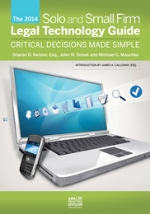 Authors:
Sharon D. Nelson Esq., John W. Simek and Michael C. Maschke
ISBN: 978-1-62722-439-0
Price: $89.95
This annual guide is the only one of its kind written to help solo and small firm lawyers find the best technology for their dollar. You'll find the most current information and recommendations on computers, servers, networking equipment, legal software, printers, security products, smartphones, the iPad, and anything else a law office might need. It's written in clear, easily understandable language to make implementation easier if you choose to do it yourself, or you can use it in conjunction with your IT consultant. Either way, you'll learn how to make technology work for you.
Topics include:
Updated recommendations for hardware and software for PCs and Macs
Is it time to upgrade to Windows 8 or should you avoid it?
Smartphones–which phones are best for lawyers?
Secure cloud implementations
How can lawyers use social media ethically and effectively?
Favorite utilizes and apps for lawyers
Securing your data (even from our own government
Where legal technology is heading in 2015
And much more!