Arlington IT Support and Managed Services
Arlington MSP
Since 1997, Sensei has been providing business IT services and support throughout the entire state of Virginia, including Arlington. We are the leading Arlington, Virginia IT support provider offering expertise services and support at a low cost.
While solutions for every business are unique and complex, our team has perfected the art of providing quality IT solutions at affordable prices while minimizing downtime. We specialize in providing small business IT support.
We offer a variety of services designed to protect your IT systems and networks, including the Sensei Infrastructure Guardian (SIG). Our proprietary suite of services provides 24/7/365 monitoring, backup, and recovery, as well as email security and filtering to proactively keep threats away from your business.
Some of our Arlington IT support and managed services include: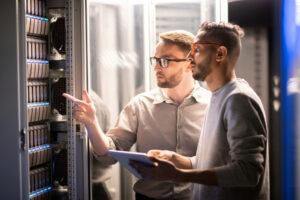 Managed IT Services
Talk to the Experts
Why choose Sensei for your Arlington IT support and managed services?
At Sensei Enterprises, we build long-term relationships based on personal service and attention. Our dedication to prompt full-service support is our advantage. Our objective is to meet our clients' needs by providing cost-effective, fast, fully supported, manageable, upgradeable, and industry-recognized IT solutions while maintaining a strong emphasis on cybersecurity.
The Top Reasons to Choose Sensei
Certified Consultants – One of our biggest benefits to our customers is our certified consultants. What this means is that we are certified to install, configure and manage your infrastructure which translates into cost savings. Don't hire a company that takes hours to do something it could take us minutes to do.
No long-term contracts – Most IT companies lock you in with long-term contracts. Sensei provides hourly service rates so you aren't locked in. We make ourselves "easy to leave" because we are confident you will stay.
Documentation Services – We find this crucial to any business. You must be able to find what you are looking for and fast. At Sensei we document every stage of the IT process.
Onsite and Remote Support – Sensei consultants travel to sites within the DC Metro area daily. We also provide remote support so that we can avoid long travel times getting to your office. This is a huge benefit compared to those IT providers that provide only remote support.
24x7x365 – We offer 100% coverage for your business at any time of the day.
Cloud Hosting – Sensei provides a private cloud to our customers. This means that your data is secure. It's not on any shared system and can be accessed with 100% reliability.
Response Time – Sensei offers quick turnaround and low response times for our customers. Are you currently waiting for hours or even days to get help? That won't happen with Sensei.
Cybersecurity and Digital Forensics – Sensei is comprised of three departments: Managed Information Technology, Managed Cybersecurity and Digital Forensics. All of these services work together to set us apart from other IT companies in the DC Metro area.
Combined Knowledge – Sensei employs only the best of the best when it comes to Information Technology. Each senior consultant has at least 10 years' experience with some approaching 25 years' experience.
Services and Offerings – Sensei has selected many industry partners and services to be able to provide our customers with the right technology at the right price.
If you need Arlington IT support and managed services, please contact us at 703.359.0700 or click on the button below.
Talk to the Experts